Cheapest 45p UK Psychic Answers Team
0904 007 0060
(Calls cost 45p per minute plus your phone company's access charge)

Welcome, and thank you for choosing Psychic Answers. Our team of dedicated psychic mediums work around the clock, day and night 7 days a week 24 hours a day, to offer their rare and wonderful gifted abilities. They are here to guide and offer assistance whenever they are needed. Our priority is your happiness. All of our psychic mediums have been chosen, not only for their psychic excellence, but for their passion and commitment to provide only the very best readings available online today. As money is not the key driving force behind our psychic mediums, our costs are kept to an absolute minimum, giving us the freedom to offer you amazing cheap psychic readings.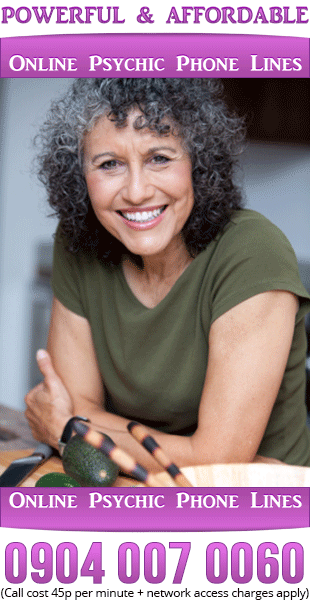 The beauty of being able to offer our callers cheap psychic readings means our callers can receive a very complete and full reading at the fraction of the cost, so you can concentrate on your reading without worrying how much you have spent on the call. This allows our finely tuned psychics to connect to your energy easily, keeping the channels of communication open. This also means you will benefit from receiving even more psychic answers online.
Do you have a sixth sense something is going to happen, and would like to receive a psychic future prediction on what is round the corner for you? Do you have a friend who you feel you can no longer trust, but can't quite put your finger on why you feel like this? Have you recently moved into a new home and now feel you have made a mistake? Are you undecided on the location of your next residence? Perhaps you have agreed to move in with your partner but their recent behaviour has given you doubts, and now you are afraid to follow it through. The psychic answers you are seeking to your questions are only a phone call away.
Has your relationship hit a crossroads and you are uncertain of whether you will stay together? Have you tried everything to get your relationship or marriage back on track, but are getting nowhere fast? Are you unsure of how your partner feels about you? Have you recently separated from a short or long term relationship and want to know if there is any chance of the two of you starting over? Or maybe you are seeking guidance on how to bring closure to a relationship so you can move on. Has your partner cheated on you in the past and you want reassurance that it will not happen again. If you have lots of questions and don't feel you will be able to remember them, why not jot them down before you call, then you can be confident you will receive all the psychic answers you need to move on.
Dial now for your amazing cheap psychic reading. Our psychic mediums may even have your loved one with them waiting for your call. Future predictions and guidance often come directly from your loved ones in the spirit world. When connecting with spirit during a reading is an unforgettable experience and if you have any doubts whether there is life after death, or if our souls do fly with the Angels when we leave the Earth plane, after your reading you will be sure we do go to a better place.
So what are you waiting for? Dial now for your amazing cheap psychic reading. Remember this is your reading, so whether you want future predications, psychic answers online or just for someone to listen, or all of the above, and our psychic mediums are waiting.
Love and best wishes.
Psychic Answers
0904 007 0060
(Calls cost 45p per minute plus your phone company's access charge)

Live Clairvoyants & Psychics Online Now
Below is a selection of 20 Psychics, Mediums and Tarot Card Readers out of the hundreds we have online right now. To keep up to date with who's available at this precise moment, Click here to refresh the page.